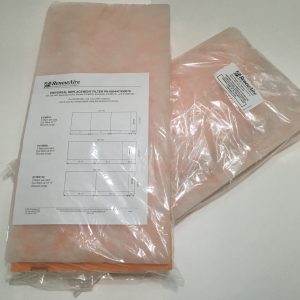 Filter 990447 – MERV8 – EV/BR/SL/GR (6,12 or 18 filters)
Keep your Residential Renewaire unit running efficiently by replacing the filters with the factory original Renewaire Filter.  Accept no imitations!
These filters fit any EV and BR series Renewaire unit.  User must cut filter mesh to size.  This is 3 pack filter set.  See full description for information on how many filters can be made based on unit model number.
SL70 / EV70 / BR70 – 18 Individual Filters
EV90 / BR90 – 12 Individual Filters
EV130 / BR130 – 12 Individual Filters
EV PREMIUM M – 12 Individual Filters
EV PREMIUM L – 6 Individual Filters
EV90P – 6 Individual Filters
EV200 – 6 Individual Filters
EV300 – 6 Individual Filters
not rated
$

60.00
Add to cart