EV PREMIUM L H – Renewaire ERV (HARD WIRED)
$1,580.00
Application Type: I

ndoor

Ventilation Type:

Static plate, heat and humidity transfer

Typical Airflow Range:

30-280 CFM

OA Filter(s):

Total Qty: 1, Merv 8: spun polyester media, 10 1/2″ x 21 3/4″ x 1″

RA Filter(s):

Total Qty: 1, Merv 8: spun polyester media, 10 1/2″ x 21 3/4″ x 1″

Unit Dimensions & Weight: 22

1/2″ L x 23 5/8″ W x 23 3/4″ H, 52 lbs.

Core Exchanger material is cellulosic-based and does not contain or use halogenated flame retardants or PVC's.

Certified by the Air Conditioning, Heating and Refrigeration Institute (AHRI) for an industry leading low-to-zero Exhaust Air Transfer Ratio (EATR) atypical static pressure differentials
Description
EV PREMIUM L H (HARDWIRED)
RenewAire is a pioneer in enhancing IAQ while maximizing sustainability through enthalpic-core, static-plate Energy Recovery Ventilators (ERVs) that optimize energy efficiency, lower costs by reducing HVAC loads and therefore reduce environmental footprints. Our ERV technology preconditions incoming air with the otherwise-wasted energy (heat and humidity) of the exhaust air going out—all while the airstreams are kept physically separate as certified by the Air Conditioning, Heating and Refrigeration Institute (AHRI) for low-to-zero Exhaust Air Transfer Ratio (EATR) at typical static pressure differentials. As the pioneer of static-plate core technology in North America, RenewAire is the largest ERV producer in the USA.
As buildings become more airtight due to better construction methodologies, the need for increased and balanced ventilation is critical. Without it, internally generated contaminants accumulate and cause deficient
indoor air quality (IAQ), which leads to significant health and cognitive problems for occupants. Industry standards are changing to combat deficient IAQ, and codes that adopt these new standards are driving the application of Energy Recovery in ventilation strategies.  Deficient IAQ is a serious problem, especially considering:
On average, Americans spend 90% of their time indoors
The EPA found that indoor air may be 2-5 times—and occasionally greater than 100 times—more polluted than outdoor air
The EPA ranks indoor air pollutants as a top-five environmental health risk to occupants
This unit is designed for continues operation at low speed (customer sets the desired low speed).  In addition, with the use of the approved controls, there is a boost mode, which will make the unit operate at high speed.  Depending on the control used, the high speed operation can be for a specific time frame (PBT, PTL, Timer, etc), until a certain condition is met (if used with a CO2 Sensor) or indefinitely (regular on/off toggle switch).
EV PREMIUM L H – Overview
Application Type: I

ndoor

Ventilation Type:

Static plate, heat and humidity transfer

Typical Airflow Range:

30-280 CFM

OA Filter(s):

Total Qty: 1, Merv 8: spun polyester media, 10 1/2″ x 21 3/4″ x 1″

RA Filter(s):

Total Qty: 1, Merv 8: spun polyester media, 10 1/2″ x 21 3/4″ x 1″

Unit Dimensions & Weight: 22

1/2″ L x 23 5/8″ W x 23 3/4″ H, 52 lbs.

Core Exchanger material is cellulosic-based and does not contain or use halogenated flame retardants or PVC's.

Certified by the Air Conditioning, Heating and Refrigeration Institute (AHRI) for an industry leading low-to-zero Exhaust Air Transfer Ratio (EATR) atypical static pressure differentials
EV PREMIUM L H- Key Features
White painted cabinet
Hard Wired
Low-voltage circuit for controls
Unit may be mounted in any orientation
Cross-core differential pressure ports
Dial-A-Flow – balance and airflow adjustment
Variable speed
Boost mode
Click here for Renewaire EV Premium L brochure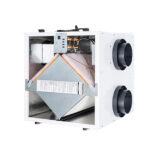 Accessories:
Backdraft damper 6″, 8″
Automatic balancing damper 4″, 5″, 6″
Louvered wall vent 6″ – white, brown
Digital time clock – wall mount (TC7D-W), in exterior enclosure (TC7D-E)
Carbon dioxide sensor/control – wall mount (CO2-W)
IAQ sensor – wall mount (IAQ-W)
Motion occupancy sensor/control – ceiling mount (MC-C), wall mount (MC-W)
Push-button boost timer (PBT)
Percentage timer control (PTL)
Percentage timer control with furnace interlock (FM)
Push-button point-of-use controls (PBL), PTL req'd.
MERV 13 filter – OA airstream (shipped loose)
Electric duct heater – RH series (1-4 kW); designed for indoor ductwork installation only